eCPC

0.11€

CR

1.29%

CR for 48 hours

1.18%

Approval rate

55.06%

Cookie lifetime

1

day

Max. hold time

30

days

Average hold time

75

days
Banners and Links
{$ bPaginator.results_on_page $}
Program Reports
Product Feeds
Here you can get a link to original product feed of this program. Links in product descriptions have been replaced by deeplinks. Time of last updating has also been added.
Products: &nbsp&nbsp Updated: &nbsp&nbsp Updated by advertiser:
Program Review
Why Admitad?
detail analytics and useful tools,
express withdrawal without fee,
enormous range of affiliate programs,
trusted by 523949 publishers,
and much more.
This affiliate program is a part of the Admitad affiliate network
In order to start cooperation with the program, first you need to register in the system.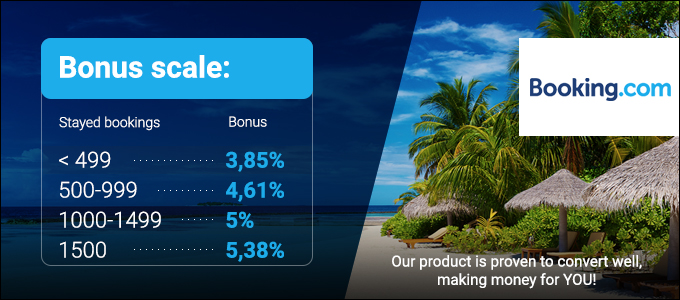 Booking.com is a system of making reservations in hotels all over the world.
It is the most popular online resource of booking properties.
This project was created in Amsterdam (Netherlands) in 1996.
Booking.com is…

More than 20 million users per month!
More than 520 000 options of allocations all over the world!
More than 30 million actual reviews!
There are some advantages of using this resource:
- a guarantee of the best price
- it doesn't charge any booking or administration fees;
- the ability to choose any hotel of one of 206 countries;
- an option to book as a suite in a luxury hotel as a single bed in a hostel;
- easiness of making reservations.
Your advantages while working with the program:
- the project is dynamically developing;
- there is a wide target audience;
Dear publishers, please, pay attention, that you receive payment only for paid bookings. It means, that the order might be approved only after the actual payment. The time between making booking and paying booking differs from the hold time.
Please, pay your attention, Booking.com affiliate program do not accept cookies.
Sincerely,
Booking.com affiliate program
Basics
KEY POLICIES FOR BOOKING.COM AFFILIATE NETWORK PROGRAM
1. Online advertising/Keyword Bidding
· Booking.com does not permit search engine optimization (SEO), search engine marketing (SEM) and /or paid advertising in any form (including PPC). This means 'NO' advertisement of our product on third party platforms (like search engines, meta-comparison websites, social media etc.)
· NO paid listings (for example search engines) to drive consumers to the publisher's website using 'Booking.com' brand or any misspellings, variations, similar names of 'Booking.com brand.
· There should be NO PPC of any kind but if you have questions please make a ticket.
· NO posting of Booking.com links on social media like Twitter, Facebook or any other site, other than the publisher's own website
2. Website
Prohibiting Conduct:
· Publishers cannot register or use website URL (domain name) containing the Booking.com brand or any misspellings or similar names. For example: words like booking, bookings, priceline, agoda or any misspellings, variants should not be a part of the domain name
· NO use of iframes or similar functionality
· NO use of toolbars, browser applications and/or extensions that can be knowingly or unknowingly installed on the user's computer or other devices
Website content:
· Website should not contain any pirated or sexual/adult content, gambling, spyware, malware, virus, or other harmful code
· Website should not copy or resemble the look and feel of Booking.com's website to give an impression that the publisher's website is a part of Booking.com
3. Sub Affiliation
Sub affiliation is permitted only with approval from Booking.com. If you have sub-affiliates please make a ticket for approval.
4. Cashback Display:
· If you're promoting cashback, please make a ticket for approval.
· If you're then approved, please add the following terms & conditions to the Booking.com Store Page: "Cashback is based on the room rate and does not apply to any taxes, service fees, VAT or other hotel facility costs (including restaurant and spa). Cashback will be paid out a month after you have completed your stay."
Please note: If any of the above policies are violated, Booking.com reserves the right to ask networks to close down the publisher and mark the publisher 'fraudulent' and reject all bookings from the them (means no commission will be paid for bookings from the publisher)
Last changed 02.11.2016
Traffic Source
Social Media
| | |
| --- | --- |
| Is in-app advertising allowed on social media? | Forbidden |
| Is targeted advertising allowed on social media? | Forbidden |
| Is advertising allowed in public groups on social media? | Allowed |
| Is it allowed to create public groups on behalf of the Advertiser? | Forbidden |
| Is advertising allowed on Facebook? | Forbidden |
| Is advertising allowed on Vkontakte? | Forbidden |
| Is advertising allowed on Google+? | Forbidden |
| Is advertising allowed on Odnoklassniki? | Forbidden |
Others
| | |
| --- | --- |
| Cashback | Allowed |
| PopUp / ClickUnder | Allowed |
| SEM | Forbidden |
| Doorway pages | Allowed |
| E-Mail-Marketing | Forbidden |
| Brand-Bidding | Forbidden |
| Incentive | Forbidden |
| Toolbar | Forbidden |
| Adult | Forbidden |
| Mobile for mobile version | Allowed |
| Banner-teaser networks | Forbidden |
| YouTube Channel | Need to agree |
Last changed 16.06.2016