EPC

297 р.

CR

3.27%

CR for 48 hours

3.60%

Under approval

33.00%

Cookie lifetime

14

days

Avg. hold time

20

days

Average payment time

21

day
Banners and Links
"Dynamic ads" tool shows ads for Aliexpress products to the users based on their browsing behavior on AliExpress.com and the content of your website, so that a users see ads for only those products that they are interested in. Such targeting helps to increase the click-through rate of your ad and thus your reward. You can find more information about this tool in Help center.
Program Analytics
Product Feeds
Here you can get a link to original product feed of this program. Links in product descriptions have been replaced by deeplinks. Time of last updating has also been added.
Products: &nbsp&nbsp Updated: &nbsp&nbsp Updated by advertiser:
Landing pages
This section provides the rating of landing pages of this affiliate program. You can learn and compare the average cost for click and conversion rates of different landing pages, or get links to them.
Individual Terms
If you received access to this section, it means that the affiliate program allows you to earn more money than the standard reward allows. For a bigger profit, obtain the volumes to receive bonuses.
| Bonus name | Rate | Type of condition | Min limit | Max limit | New reward | Valid from |
| --- | --- | --- | --- | --- | --- | --- |
| Повышенная ставка +4% | | Order amount | 150000 | 300000 | 4.00 % | 01.11.2019 |
| Повышенная ставка +6% | | Order amount | 300001 | 500000 | 6.00 % | 01.11.2019 |
| Повышенная ставка +8% | | Order amount | 500001 | 700000 | 8.00 % | 01.11.2019 |
| Повышенная ставка +10% | | Order amount | 700001 | 1000000 | 10.00 % | 01.11.2019 |
| Повышенная ставка +12% | | Order amount | 1000001 | 100000000 | 12.00 % | 01.11.2019 |
Program Review
Why Admitad?
detail analytics and useful tools,
express payment without fee,
enormous range of affiliate programs,
trusted by 594853 publishers,
and much more.
This affiliate program is a part of the Admitad affiliate network
In order to start cooperation with the program, first you need to register in the system.
Подключайтесь к партнерской программе интернет-магазина МТС!
Бонусная программа с 1 ноября 2019г.
Интернет-магазин МТС www.shop.mts.ru основанн 1 июня 2010 года лидером среди операторов сотовой связи России Компанией МТС.
Статус публичной компании накладывает особые обязательства по информационной прозрачности и открытости работы как с клиентами, так и с партнерами.
Интернет-магазин МТС www.shop.mts.ru представляет своим клиентам широкий ассортимент цифровой техники и аксессуаров, а так же тарифов оператора связи МТС.
Розничная сеть МТС, частью которой является интернет-магазин МТС работает напрямую с производителями и поставщиками ведущих брендов мобильных устройств, аксессуаров и портативной техники, среди которых Samsung, Apple, Sony, Microsoft и многие другие. Эксклюзивно в интернет магазине и розничной сети МТС представлены популярные и технологичные модели мобильных телефонов, смартфонов и планшетов собственного бренда МТС.
Самовывоз заказов интернет-магазина осуществляется из более 3000 салонов по всей России.
Курьерская доставка «до двери» осуществляется в 30 крупных и 172 областных городах России. Список городов присутствия постоянно расширяется.
Информация о ценах, наличии товаров, поступлениях в продажу новых моделей на сайте интернет-магазина обновляется ежечасно. Операторы интернет-магазина МТС работают круглосуточно по всей России во всех часовых поясах.

Наши преимущества для клиентов:
- Круглосуточное оформление заказов и консультирование операторами Контактного центра.
- Гибкие условия доставки по городу и области.
- Самовывоз в шаговой доступности в течение часа после подтверждения заказа.
- Резерв до 3 дней.
- Безопасные онлайн-платежи.
- Специальные условия для покупки товаров с помощью программы МТС Бонус.
- Постоянное обновление ассортимента.
- Множество вариантов оплаты и доставки заказанного товара в удобное для покупателя время.
- Цены на сайте ниже, чем в торговых точках МТС.
Целевая аудитория интернет-магазина МТС :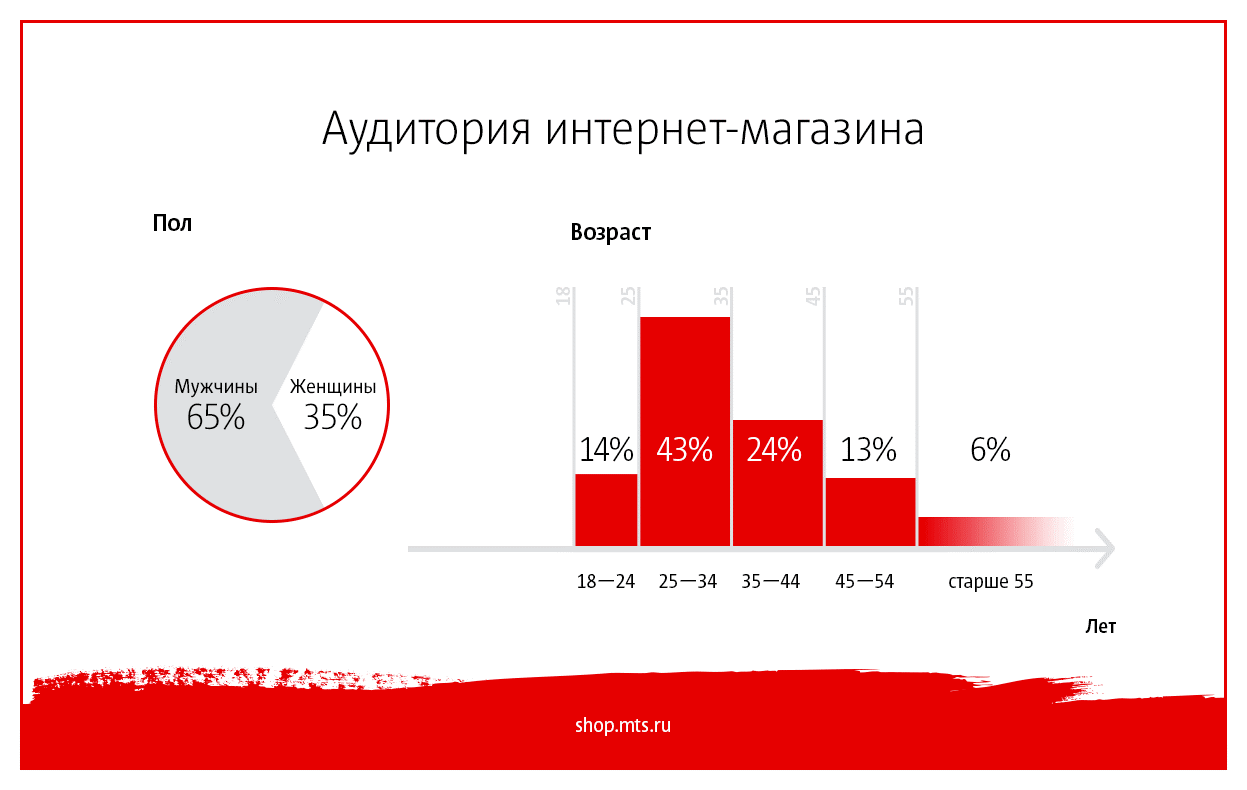 Преимущества для вебмастеров:
- Высокий средний чек (От 15000 руб.).
- Качественные и актуальные рекламные материалы.
- Регулярные акции, скидки, распродажи.
- Гибкая тарифная политика с уникальными условиям.
- Время холда 30 дней.

- Геотаргетинг: только Россия.

- Время жизни Post Click Cookie: 14 дней
С расшифровкой тарифов можно ознакомиться здесь.
Подключайтесь к партнерской программе интернет-магазина МТС!
Basics
Запрещается:
1.1. Создавать группы в социальных сетях от лица компании МТС и интернет-магазина www.shop.mts.ru а так же использовать фирменные лого и цвета компании МТС (все, что может запутать пользователя и указать, что это группа официальная);
1.2. Использовать в партнерской ссылке «ключа» сторонних программ лояльности;
1.3. Автоматический редирект, всплывающие или незакрывающиеся окна и любые другие навязчивые типы рекламы. (PopUp, ClickUnder, Toolbar и т.д.);
1.4. Контекстная реклама по брендовым словам на любой другой проект (например, купонный сайт), где есть ссылка на магазин МТС.
1.5. Категорически запрещается использовать в ключевых словах запросы "МТС","MTS", "ьеы", "vnc", и производных в любой вариации и в сочетании с любыми другими словами.
1.6. Использовать clickunder/pop up/pop under
1.7. Все партнеры, которые будут использовать контекст на Бренд, несмотря на запрет - будут отключены от партнерской программы "МТС", от admitad в целом и все их продажи по всем проектам будут отклонены.
1.8. Заказы программ лояльности, кешбек сервисов и купонных сервисов при пересечении с программой лояльности Тинькофф будут оплачиваться по ставке 1% вне зависимости от категории товаров.
Покупка тарифов, симкарт и пополнения счета не оплачивается.
Заказы, от 3-х и более, оформленные в течении календарного месяца с одного номера телефона, считаются фродовыми и не будут оплачены.
Last changes were recorded on 12.11.2019
Traffic Sources
| | |
| --- | --- |
| Cashback | Allowed |
| PopUp / ClickUnder | Forbidden |
| SEM | Forbidden |
| Doorway pages | Forbidden |
| Email Marketing | Allowed |
| Brand bidding | Forbidden |
| Social Media | Allowed |
| Incentive | Forbidden |
| Toolbar | Forbidden |
| Adult | Forbidden |
| Banner-teaser networks | Forbidden |
| YouTube Channel | Allowed |
Last changes were recorded on 06.12.2019