eCPC

5.67 р.

CR

15.45%

CR for 48 hours

14.24%

Approval rate

91.44%

Cookie lifetime

30

days

Max. hold time

70

days

Average hold time

39

days
Banners and Links
{$ bPaginator.results_on_page $}
Program Reports
Product Feeds
Here you can get a link to original product feed of this program. Links in product descriptions have been replaced by deeplinks. Time of last updating has also been added.
Products: &nbsp&nbsp Updated: &nbsp&nbsp Updated by advertiser:
Program Review
Why Admitad?
detail analytics and useful tools,
express withdrawal without fee,
enormous range of affiliate programs,
trusted by 535387 publishers,
and much more.
This affiliate program is a part of the Admitad affiliate network
In order to start cooperation with the program, first you need to register in the system.
Если вы еще не подключены к программе, подключайтесь и участвуйте в розыгрыше Toyota Land Cruiser Prado, которую мы разыгрываем среди наших партнеров.
Пассивный доход или моментальные выплаты (14.04.2017)
Кейс с ROI 639 (06.03.2017)
Почему стоит привлекать трафик на ПП - статья CEO LetyShops.ru (01.04.2016)
Читайте интервью основателя LetyShops в блоге Admitad (27.10.2015)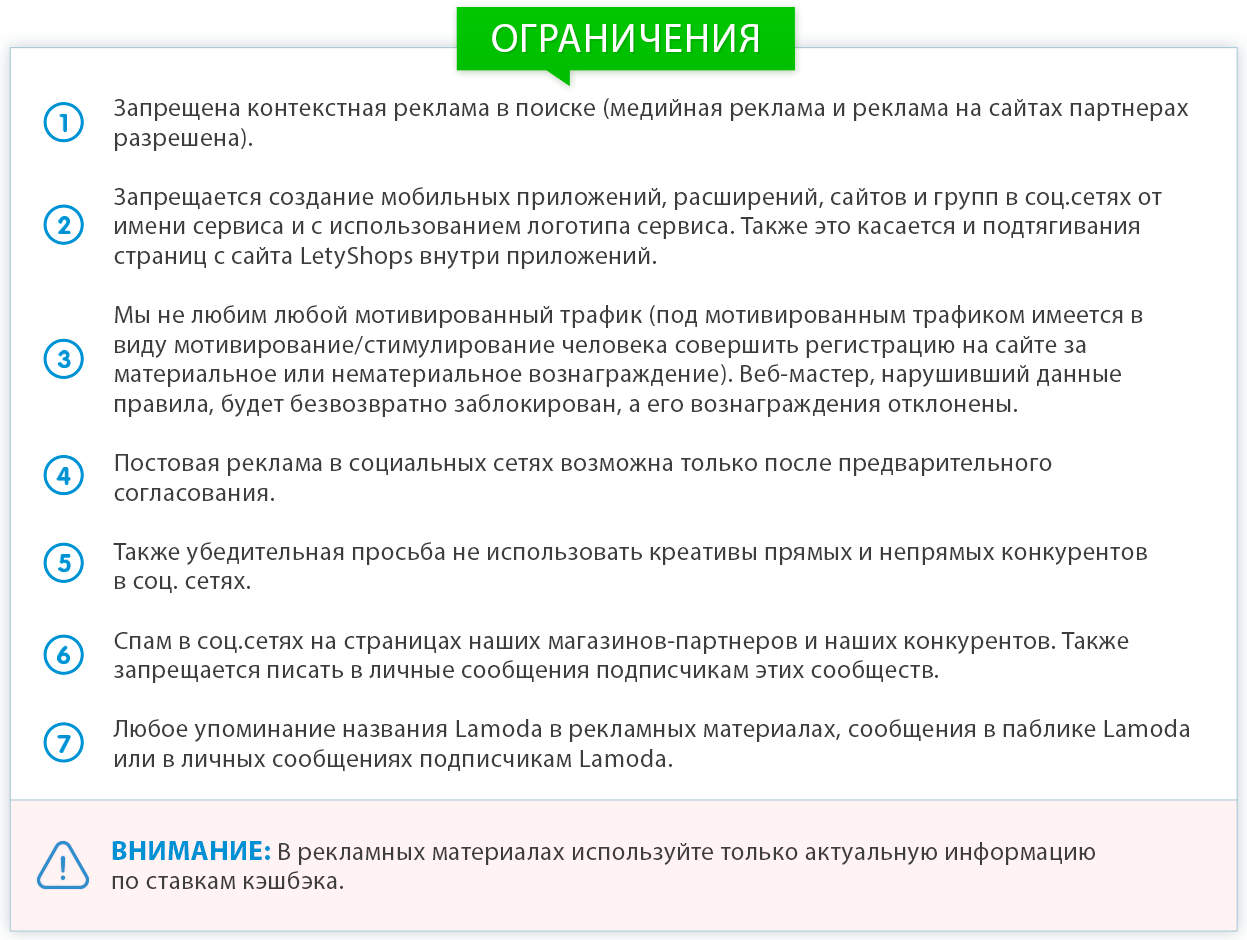 Преимущества при работе с партнёрской программой LetyShops:
Lifetime оплата — 50% от дохода сервиса с каждого заказа ваших клиентов

15₽ за подтвержденную регистрацию (регистрация + подтверждение почты)

Доход от среднего активного клиента (в год) — 800₽

Более 900 магазинов, в которых привлеченные пользователи могут совершать покупки

Мы сами занимаемся обучением пользователей, повышением лояльности, акциями, рассылками, поддержкой

Если вы уже работаете с партнерской программой другого кэшбэк-сервиса, пишите нам на почту

affiliate@letyshops.ru

- мы предложим вам лучшие условия.
Рекламные материалы и инструменты для привлечения трафика:
Лендинги
Кроме основной ссылки, вы также можете создавать deeplink на следующие лендинги https://docs.google.com/spreadsheets/d/1le0qI64XNxaD1NEY7gdPtYb2OS34fjzL37XeoKMV8Yg/edit
Шаблоны брендирования
Помимо стандартных баннеров, вы можете использовать один из наших шаблонов с брендированной подложкой.
Варианты брендирования по ссылке: https://drive.google.com/folderview?id=0B9IWxZbSn-Eua0k3SHJJYzVhXzA&usp=sharing
Расширение для браузеров (Chrome, Firefox, Opera, Safari, Yandex Browser)
Дополнительная возможность по увеличению дохода, это установка пользователями нашего расширения, за покупки через которое вы также будете получать Lifetime вознаграждение.
Для направления трафика на расширение, создавайте deeplink на url https://letyshops.ru/extension
Видео pre-roll-ы
Компания Letyshops предлагает использовать свои готовые видео pre roll-ы на ваших Youtube каналах (обновлены 03.2017)
Наша группа в ВК: https://vk.com/letypartners
По всем вопросам: affiliate@letyshops.ru
Basics
Правила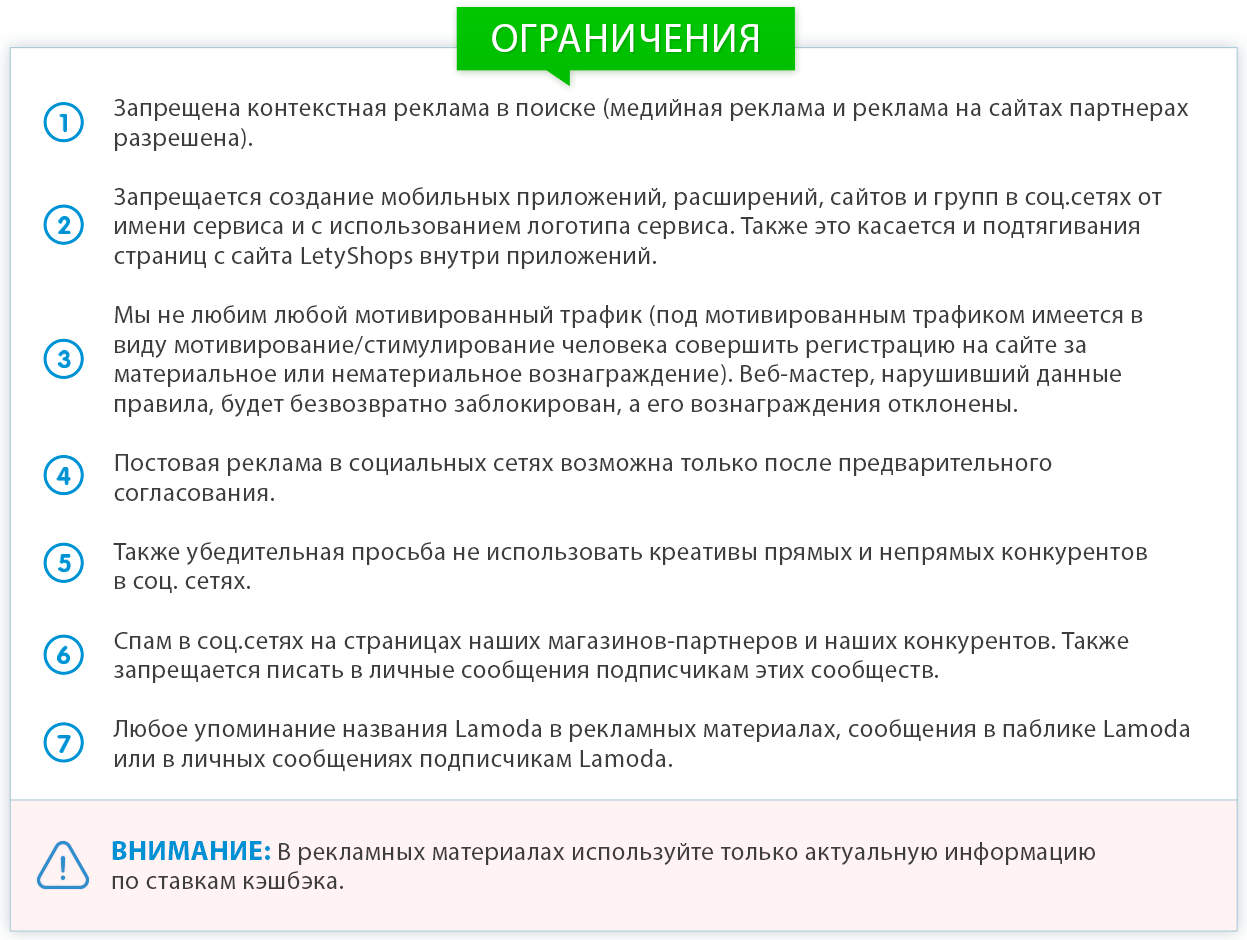 Last changed 09.06.2017
Traffic Source
| | |
| --- | --- |
| Cashback | Allowed |
| PopUp / ClickUnder | Need to agree |
| SEM | Forbidden |
| Doorway pages | Allowed |
| E-Mail-Marketing | Allowed |
| Brand-Bidding | Forbidden |
| Social Media | Need to agree |
| Incentive | Forbidden |
| Toolbar | Forbidden |
| Adult | Forbidden |
| Mobile for mobile version | Need to agree |
| Banner-teaser networks | Allowed |
| YouTube Channel | Allowed |
Last changed 23.05.2016