EPC

2$

CR

0.01%

CR for 48 hours

0.00%

Approval rate

95.00%

Cookie lifetime

60

days

Average hold time

22

days

Average payment time

23

days
Banners and Links
"Dynamic ads" tool shows ads for Aliexpress products to the users based on their browsing behavior on AliExpress.com and the content of your website, so that a users see ads for only those products that they are interested in. Such targeting helps to increase the click-through rate of your ad and thus your reward. You can find more information about this tool in Help center.
Program Reports
Product Feeds
Here you can get a link to original product feed of this program. Links in product descriptions have been replaced by deeplinks. Time of last updating has also been added.
Products: &nbsp&nbsp Updated: &nbsp&nbsp Updated by advertiser:
Landing pages
Here is the rating of landing pages of this affiliate program. You can learn and compare the average costs for click and conversion rates of different landing pages, or get links to them.
Program Review
Why Admitad?
detail analytics and useful tools,
express withdrawal without fee,
enormous range of affiliate programs,
trusted by 575061 publishers,
and much more.
This affiliate program is a part of the Admitad affiliate network
In order to start cooperation with the program, first you need to register in the system.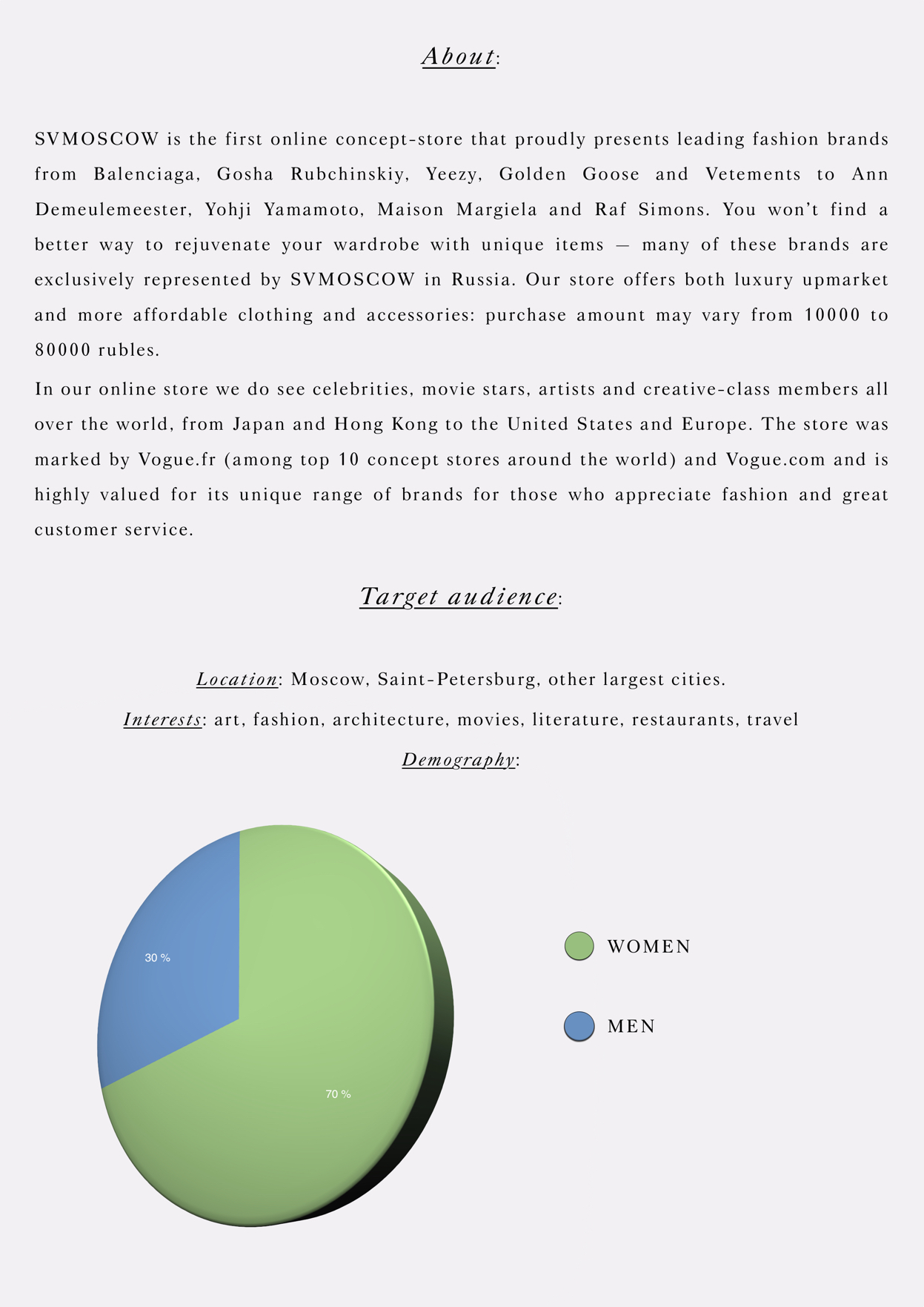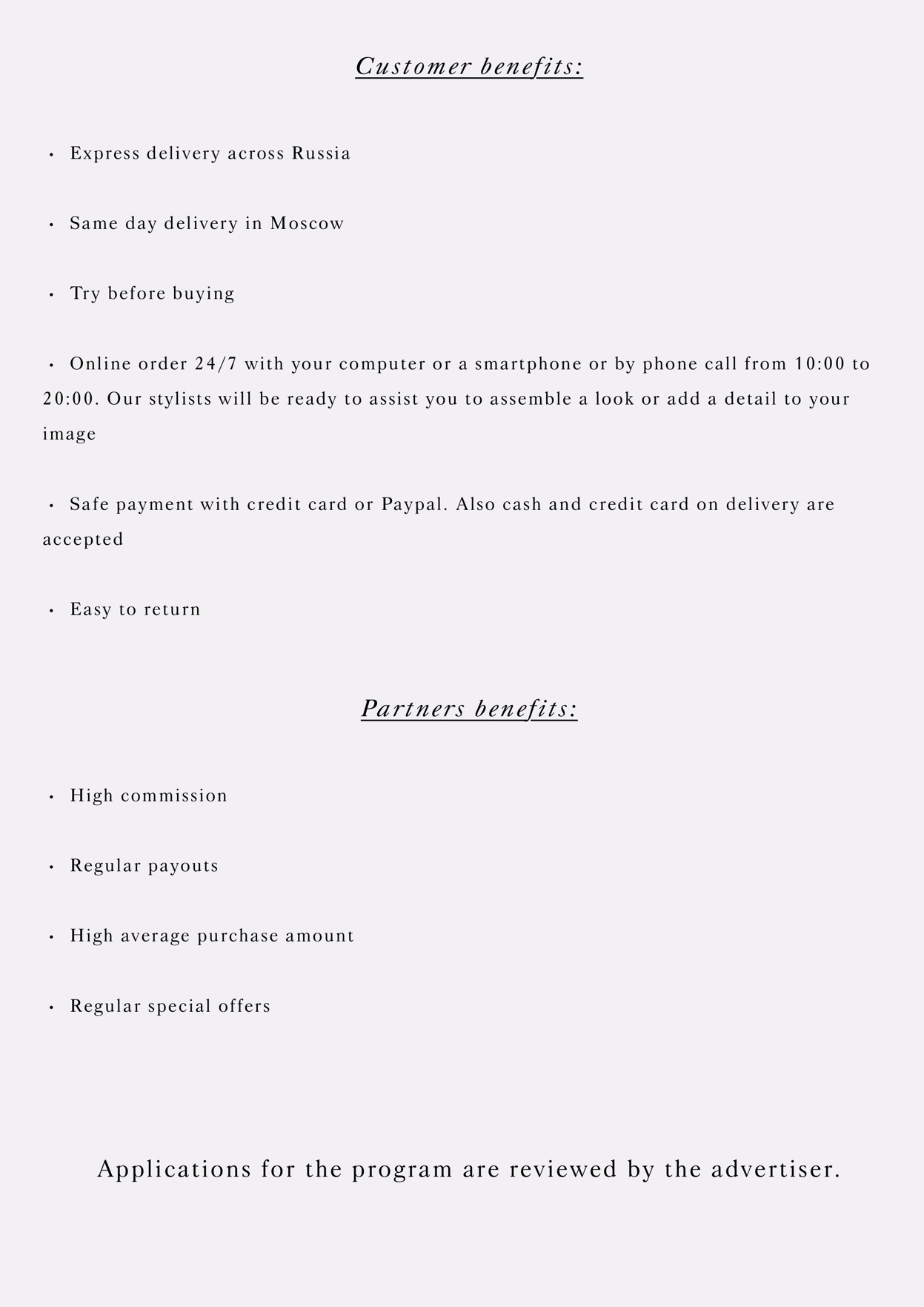 A splendiferous array of brands: from hyped Balenciaga and Vetements to classy The Row and avant-guard Comme des Garçons and Yohji Yamamoto. Located in the heart of Moscow.
Open 11:00-22:00 Moscow time.
Express worldwide delivery, same day Moscow delivery.
Safe payment with PayPal or a credit card.
Partner benefits:
Upmarket items with a high average price
Regular payouts
Nice commission

Applications for the program are reviewed by the advertiser.
Traffic Sources
SEM
| | |
| --- | --- |
| Is it allowed to guide immediate search engine traffic directly to the Advertiser's website without using an intermediary website? | Allowed |
| Is it allowed to use the advertiser's company name as an ad keyword? (# brand_name) | Forbidden |
| Is it allowed to display a contextual advertisement if the user has mistyped the Advertiser's company name? (# brand_namr) | Forbidden |
| Is it allowed to display a contextual advertisement if the user has specified the Advertiser's company name and an additional word? (# brand_name_promo) | Allowed |
| Is it allowed to use the Advertiser's company name in the header or copy of an advertisement? | Forbidden |
| Is it allowed to use the Advertiser's company name in the link? (# myurl.ru/brand_name) | Forbidden |
| Is contextual advertising allowed on Google? | Allowed |
| Is contextual advertising allowed on Yandex? | Allowed |
| Is contextual advertising allowed on Begun? | Allowed |
Social Media
| | |
| --- | --- |
| Is in-app advertising allowed on social media? | Allowed |
| Is targeted advertising allowed on social media? | Allowed |
| Is advertising allowed in public groups on social media? | Allowed |
| Is it allowed to create public groups on behalf of the Advertiser? | Forbidden |
| Is advertising on Facebook allowed? | Allowed |
| Is advertising on VK allowed? | Allowed |
| Is advertising on Google+ allowed? | Allowed |
| Is advertising on Odnoklassniki (ok.ru) allowed? | Needs approval |
Others
| | |
| --- | --- |
| Cashback | Allowed |
| PopUp / ClickUnder | Needs approval |
| Doorway pages | Forbidden |
| Email Marketing | Allowed |
| Brand-Bidding | Forbidden |
| Incentive | Needs approval |
| Toolbar | Allowed |
| Adult | Needs approval |
| Banner-teaser networks | Needs approval |
| YouTube Channel | Allowed |
Last changed 27.04.2018