EPC

12$

Approval rate

86%

Cookie lifetime

30 days

CR

2%

Avg. hold time

59 days

Average payment time

61 days
Program Information
This affiliate program is a part of the Admitad affiliate network
In order to start cooperation with the program, first you need to register in the system.
Start cooperation with

Answear BG/Euro
Why Admitad?
— detail analytics and useful tools,
— express payments,
— enormous range of affiliate programs,
— trusted by 645738 publishers,
— and much more.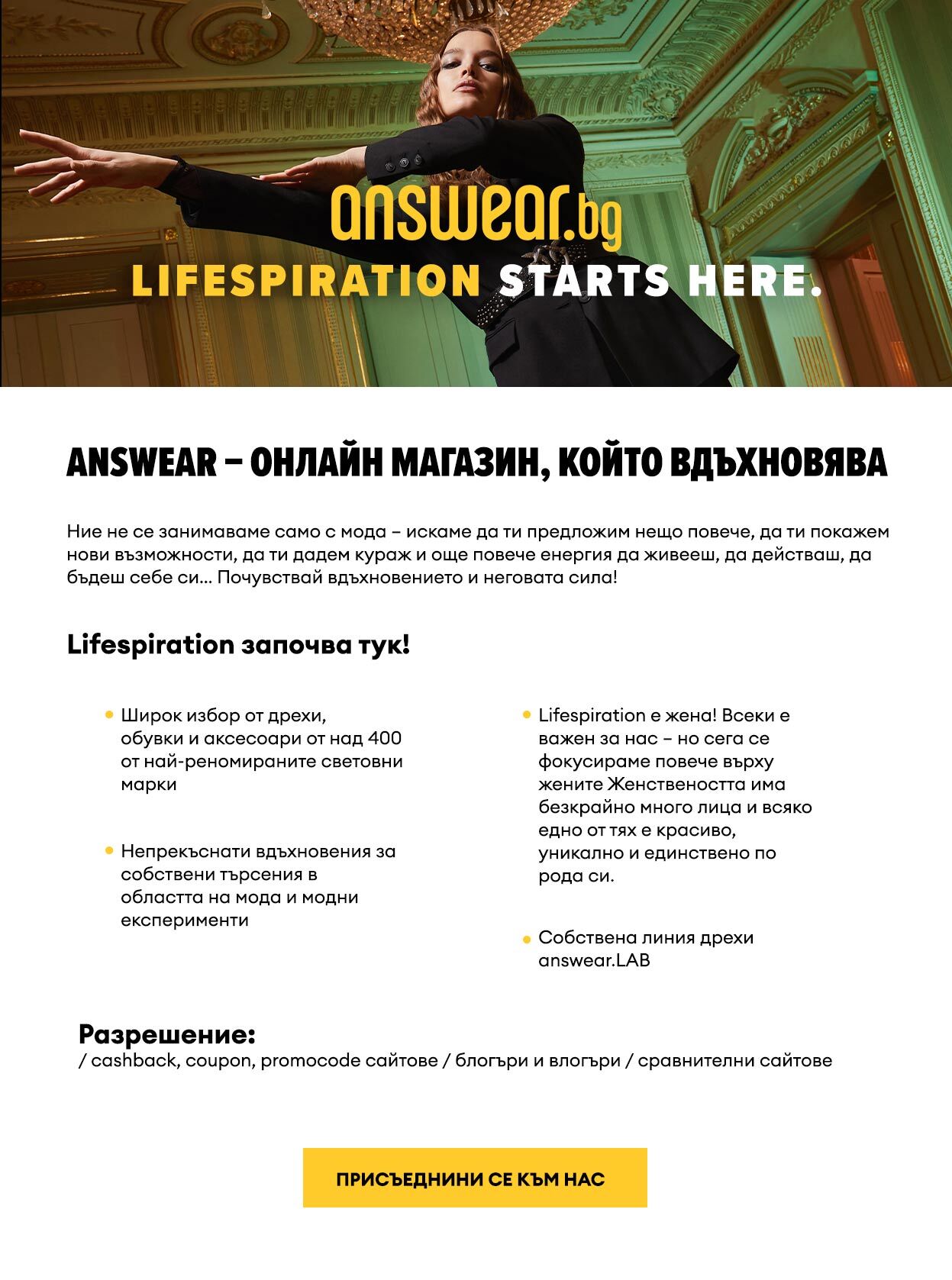 Заедно създаваме един бранд. Той се различава във всяка от страните заради културните особености, но фундаменталната идея и стратегия остава една и съща.
Всеки може да направи покупки за цялото семейство, защото освен богатия избор за дамите, магазинът предлага мъжки и детски колекции. Продуктите се доставят на клиентите в рамките на 3-5 работни дни. Получавате ги бързо, безопасно и – което е най-важно – без да напускате домът ви. Покупките никога не са били толкова лесни!
За сайтове с ексклузивни промоции или ваучери за намаление и кешбек сайтове комисионна е 3.46%.
при сумата на конверсии oт 3 000 лв дo 5 000 лв - 0.5% от сумата на поръчките;
при сумата на конверсии oт 5 000,01 дo 10 000 лв - 1.0%  от сумата на поръчките;
при сумата на конверсии oт 10 000,01 дo 15 000 лв - 1.5% от сумата на поръчките;
при сумата на конверсии от 15 000,01 лв и повече - 2.0% от сумата на поръчките.