EPC

469 ₽

Approval rate

46.8%

Cookie lifetime

30 days

CR

0.7%

Avg. hold time

31 days

Average payment time

34 days
Program Information
This affiliate program is a part of the Admitad affiliate network
In order to start cooperation with the program, first you need to register in the system.
Start cooperation with

Dfsport
Why Admitad?
— detail analytics and useful tools,
— express payments,
— enormous range of affiliate programs,
— trusted by 645738 publishers,
— and much more.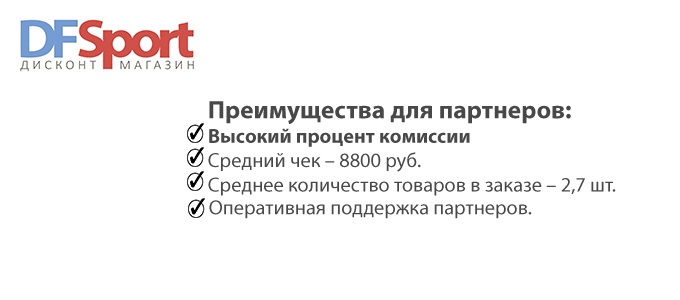 DFsport.ru – это крупнейший дисконт-магазин скейтбордов, лонгбордов, горных лыж и сноубордов в России. В наш ассортимент входят модельные ряды всех ведущих производителей прошлых сезонов. Разница в цене для покупателя от новых коллекций составляет от 30%. При этом оборудование не успело устареть даже «морально».
Преимущества для партнеров:
Средний чек – 8800 руб.

Среднее количество товаров в заказе – 2,7 шт.

Корректные остатки в XML фиде.

Техническая поддержка партнеров.
Портрет покупателя:
География: РФ.

Возраст от 25 до 44 лет.

Мужчины - 70%, женщины – 30%.
Преимущества для клиентов:
Низкая цена товара.

Товар оригинальный.

Гарантия на весь ассортимент.

5 звезд по отзывам на Яндекс.Маркете.

Индивидуальная работа с каждым клиентом (консультации по телефону, e-mail, соц. сетям, мессенджерам).

Быстрая и недорогая доставка в любую точку России.

Бесплатная доставка по Москве.

Возможность оформить покупку в кредит на сайте.
При работе с партнерами рассчитываем на долгосрочное сотрудничество, поэтому со своей стороны готовы прилагать максимум усилий.