EPC

37$

Approval rate

93%

Cookie lifetime

30 days

CR

6.6%

Avg. hold time

74 days

Average payment time

74 days
Program Information
This affiliate program is a part of the Admitad affiliate network
In order to start cooperation with the program, first you need to register in the system.
Start cooperation with

SHEIN Many GEOs
Why Admitad?
— detail analytics and useful tools,
— express payments,
— enormous range of affiliate programs,
— trusted by 645738 publishers,
— and much more.
SHEIN doesn't track mobile app orders!
Browser extension, Brand-Bidding, Contextual advertising on Google&Facebook are strictly forbidden!!!
Pay attention to countries which we deliver to.
Commission Rate: 10%
We ask you to use the ad space and promotional methods that are mentioned in your account for the moment of applying to the program. Otherwise, you might be suspended at any time.
Please make sure that you do not use TM for bidding. Only these combinations for coupon sites are allowed:
Language
语种
 code/coupon of different language
English
英语
coupon
coupons
code
codes
Arabic
阿语
كوبون
كوبونات
رمز
رموز
Russian
俄语
Купон
Купоны
Код
Коды
French
法语
coupon
coupons
code
codes
Italian
意大利语
coupon
coupons
codice
codici
German
德语
Gutsсhein
Gutsсheine
Code
Codes
Spanish
西语
cupón
cupones
código
códigos
Traditional Chinese
繁体
優惠券
優惠碼
優惠券
優惠碼
Thai
泰语
คูปอง
คูปอง
โค้ด
โค้ด
Indonesian
印尼语
kupon
kupon-kupon
kode
kode-kode
Dutch
荷兰语
De bon
De Bonnen
kortingscode
kortingscodes
Turkish
土耳其语
kupon
Kuponlar
Kod 
Kodlar
Portuguese
葡萄牙语
cupão
cupões
código
códigos
Vietnamese
越南语
Phiếu giảm giá
Phiếu giảm giá
Mã
Mã
SHEIN is a global fashion and lifestyle e-retailer committed to making the beauty of fashion accessible to all. We use on-demand manufacturing technology to connect suppliers to our agile supply chain, reducing inventory waste and enabling us to deliver a variety of affordable products to customers around the world.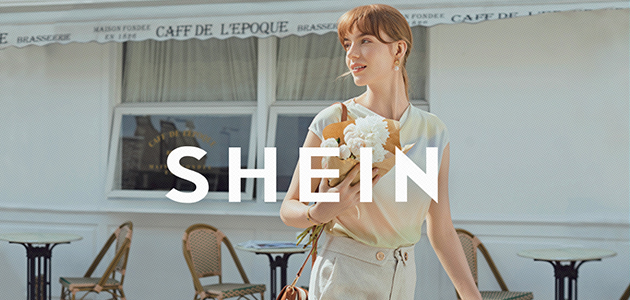 Publishers' advantages:
Profitable commission for made sale!
Loyalty bonus scheme!
Weekly refresh of ads!
Promo codes and discounts are always free for you in the system!
On time repayments!